Maui has some of the most beautiful wedding locations in the world. Whether you're dreaming of a secluded Maui beach wedding with swaying palm trees, black lava rock and turquoise blue ocean, or a private Maui oceanfront estate wedding with a lush green lawn and beautiful tropical garden views, or one of our beautiful Maui wedding resort or hotel locations....we can make it happen for you! Just let us know what your wedding dreams are and we will make them come true! Regardless of your venue, your wedding with be lovely!
Here are just a few of our favorite locations!
Private Estates
Lovely ocean front PRIVATE ESTATES offer not only spectacular views but also privacy and the ability for you to control your costs, rather thanbeing limited to one choice of chef through a resort or restaurant. Most private estates will allow us to bring in a caterer (we offer you your choice of 3-5 top catering companies on island) and you can purchase your own beverages to bring with you. We feel that a private estate offers a "blank canvas" for us to help you create the design of your event that you have always imagined. Whether under the stars, under a tent or in a lovely indoor reception area for dinner or dancing, a private estate is the perfect option for the simple or "sky's the limit" wedding set up of 15 to 250! We can provide rentals as well as every detail that you might wish to add including dj, dance floor, photo booth, Hawaiian entertainment (luau entertainers, hula or fire twirler), an acoustic duet, trio or live band. We can provide stretch limousines for wedding party arrivals and departures and shuttles or a charter bus for wedding guests to transfer to and from the venue. Some sites offer 1/2 day rentals, though most offer full-day site rentals with the first half of the day for set up under our supervision. Our onsite coordinators will oversee from start to finish and ensure that everything runs smoothly for a flawless private estate event that you and your guests will cherish forever.
We plan and coordinate at these venues and more:
Olowalu Plantation House
Sugar Beach Events
Kukahiko
Sugarmans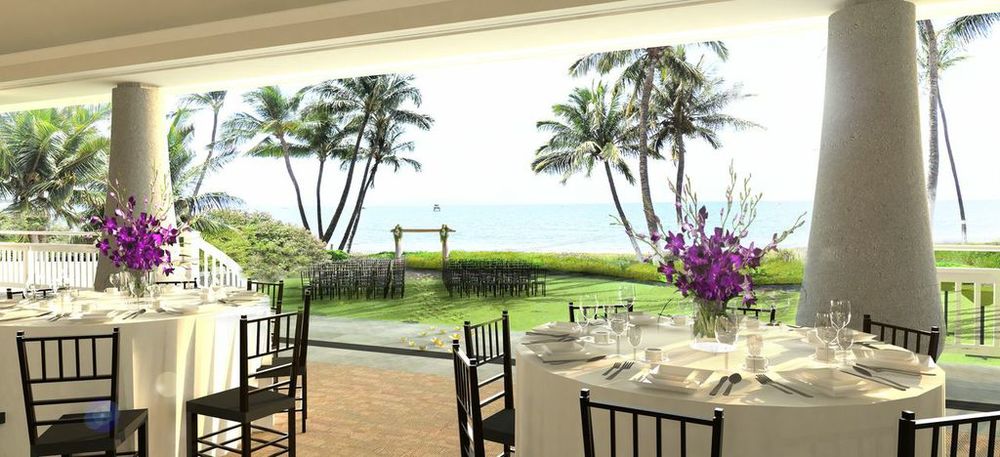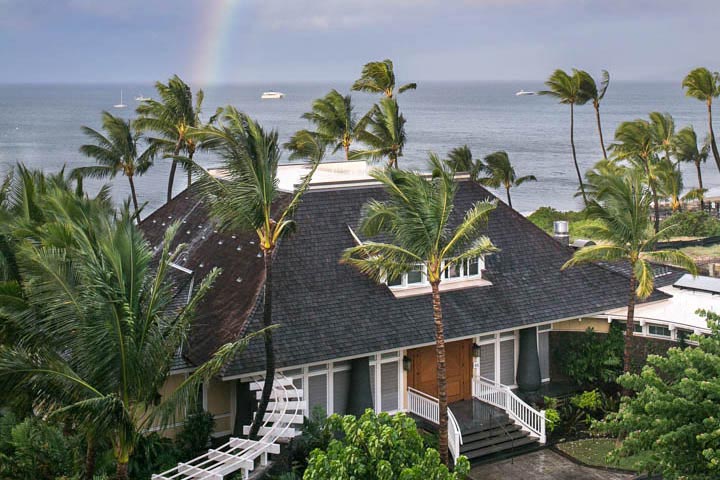 Beaches
Look no further if you have always dreamed of proposing, getting married or renewing your vows for your anniversary while on a tropical island on a lovely beach by the ocean. Maui beaches have always been rated as some of the best beaches in the WORLD! From a simple "barefoot in the sand" ceremony in casual wear, to a groom-in-tux and bride-in-full-length-wedding-dress....beach ceremonies are more "stress free" and affordable. Typically you will find less people on the beach in the mornings or about one hour prior to sunset. Mornings offer beautiful aqua water colors, while evenings offer stunning West-facing sunsets! We can plan beach weddings on VERY short notice....sometimes same week or next day!
Hotels & Resorts
A HOTEL or RESORT ocean front or ocean view lawn may provide just the perfect backdrop for your ceremony. At these locations we can also have wedding chairs and arches, passed appetizers or post-ceremony champagne toasts and we can accommodate small to larger ceremonies. Walk just steps to your reception venue making it very convenient for yourself and your guests and even more so if you are staying at the same resort. We can book the lawn and provide you with a less expensive wedding package than if you reserve it directly through the venue itself! We have been preferred coordinators for many of the island resorts. Ask us which site options to consider for your ceremony and reception and which might best fit your budget.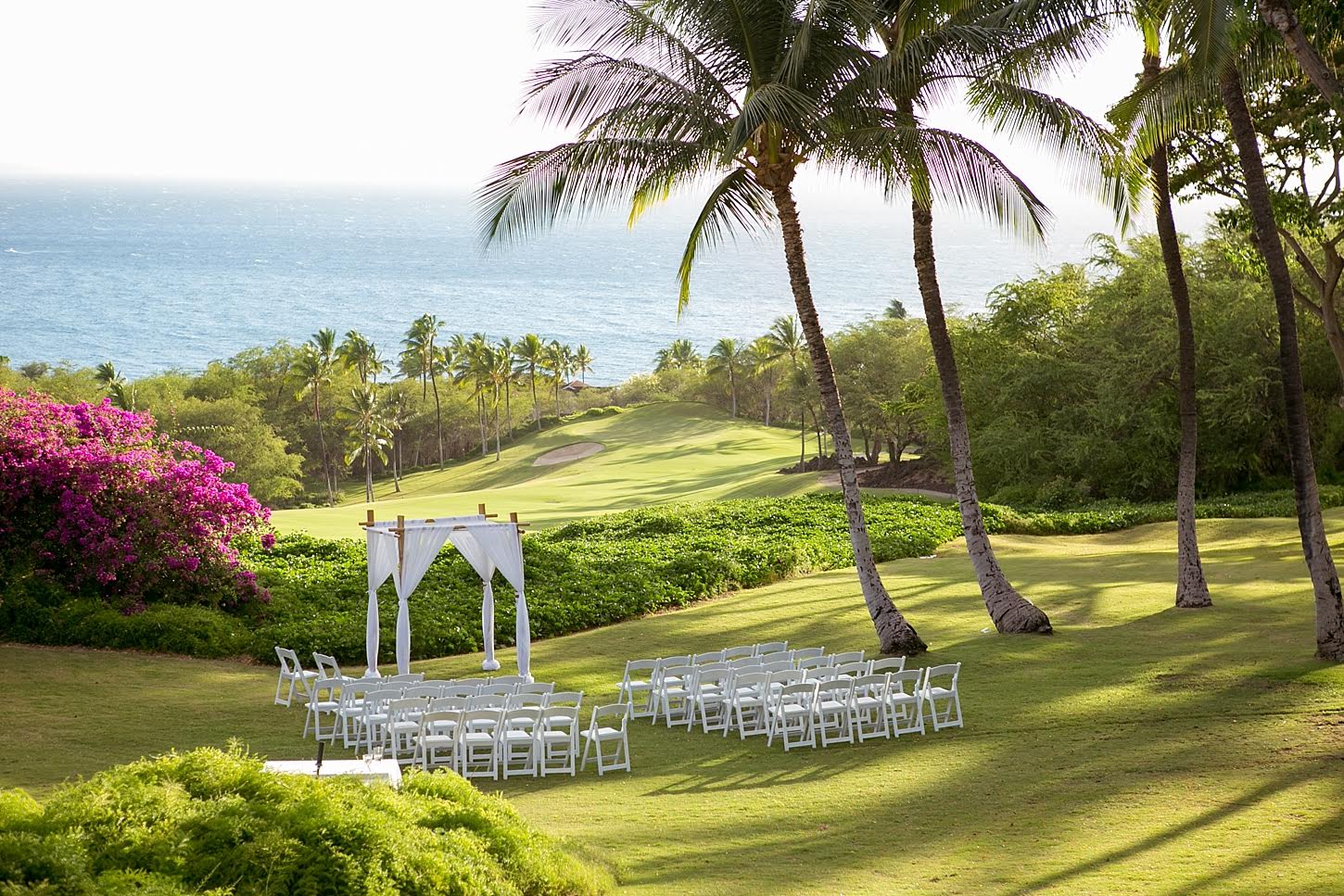 Restaurants
For over 20 years we have been coordinating weddings at a number of excellent Maui RESTAURANTS. Whether you are a "foodie" or just love the views (for just ceremony there), if you wish to do so we have some semi-private and private reception sites and larger lawns also for reception and dj with dancing. We love to be sea-side as close as you can get to the waters edge at 5 Palms Restaurant. Also on the lush, tropical golf course at Gannons Restaurant from where you can see Molokini crater, the cliff overlooking Kapalua Bay at Merrimans Restaurant, or the casual beach vibe of Dukes Restaurant with a separate designated area for wedding receptions small or large, or in Lahaina town near art galleries and shopping at Pacific'O Restaurant, or with the panoramic PGA golf course and ocean view from the Plantation House Restaurant. We book all of these sites and others!
Churches and Chapels
Often we are asked about indoor ceremonies. For those who have always wanted a church or chapel wedding, we have some excellent options. Small Hawaiian churches, as well as newer or older denominationalchurches in Kahului, West or South Maui or upcountry are good considerations. Or, if you want a Christian, non-denominational ceremony in a resort chapel then we can arrange this too. Catholic church weddings require some additional paperwork and some local pastors/churches may also require that you attend some classes or pre-counseling. Resort chapels are more expensive but the Grand Wailea chapel is beautiful and very popular (whether you stay there or not) as well as some of the smaller churches where islanders attend. We can provide you with recommendations as you tell us what is important to you for your church wedding such as unity candle ceremony, communion, musicians, florals, etc., as you wish.
Boat, Scuba, Paddle Board, Surf, Parasail..and more!
SEAS THE DAY! Love the ocean? We can arrange your proposal or ceremony on a yacht or a catamaran for you or your guests or on a smaller private boat for just the two of you. Big time surfers? Marry on surfboards with a surfing minister. Or perhaps you prefer to do an UNDERWATER proposal while scuba diving, or tie the knothand-in-hand as you paddle board . For even more "fun in the sun" why not go with a "sky is the limit" parasail as much as 1,200 ft. in the air as you take in the spectacular views of land, water and neighboring islands. If you can dream it…we will arrange it!
Other Islands
We are happy to accommodate couples on any Hawaiian Island. We work with a team of creative and professional vendors on Maui, Lana'i, Kaua'i, Big Island and Oahu who can make your dream Hawaiian wedding a reality.